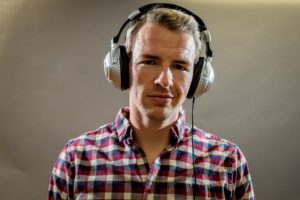 Landon Miller
Drive home with Landon Miller on Alice 96.5.  Landon was born and raised in Reno, Nevada, and is proud to call the area his home. A Wooster High School and International Baccalaureate Program graduate, Landon went on to the University of Nevada, Reno to pursue his major in journalism with a Spanish minor. He spent six years at KTVN 2 News, where he held a number of roles including a main news anchor position, where he anchored the evening newscasts. He is currently getting a Masters Degree in Spanish from the University of Nevada, Reno and works for Reno Media Group on Alice 96.5.
Landon is passionate about meeting people from all walks of life… whether it's in Northern Nevada, or Sochi, Russia. Yes, Landon has been to Russia. In fact, Landon has visited the capital cities of Russia, Estonia, Spain, Mexico, Belize, Panama, and Costa Rica yet has never been to Washington D.C. Landon loves traveling the world as much as possible. He likes getting lost, getting found, and learning more about the world.
Landon enjoys listening to new music and trying new coffee shops. So if you ever see him in one, be sure to pull up a chair, say 'hi,' and have a cup of coffee with him… or two.
Oh—Real quickly… just because we know you have these two questions: He  is 6' 7" and only plays basketball on Tuesdays.