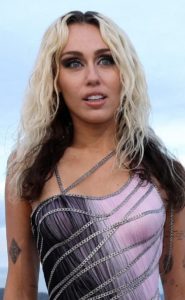 In recent times, Miley Cyrus hasn't done a ton of touring. The 2014 Bangerz Tour kept Cyrus busy for the majority of the year, and since then, she's only embarked on the Milky Milky Milk Tour (which included just eight dates) in 2015 and the Attention Tour (five dates) in 2022. So, fans, especially younger ones, haven't had much opportunity to see Cyrus live.
Cyrus recently indicated that will remain true for the foreseeable future, too. In an interview, she said, "After the last [headline arena] show I did, I kind of looked at it as more of a question. And I can't. Not only can't, because can't is your capability, but my desire. Do I want to live my life for anyone else's pleasure or fulfillment other than my own? […] Like, singing for hundreds of thousands of people isn't really the thing that I love."
There was apparently more to be said on the topic, as Cyrus shared a follow-up note today (May 24). In it, she addressed her seemingly upset fans and explained more about her feelings towards touring, writing in part, "This has nothing to do with a lack of appreciation for the fans & everything to do with I simply don't want to get ready in a locker room. Which is the reality of life on the road. These looks I've been turnin don't travel well. The archival looks don't fold. I just don't want to sleep on a moving bus. It isn't what's best for me right NOW, & if you've been following my career you know that I always change and the way I feel about that could too."
Find Cyrus' full post below.
A message from Miley ❤️ pic.twitter.com/zEIyxn8342

— Miley Cyrus (@MileyCyrus) May 24, 2023
(Uproxx)