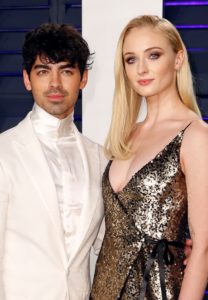 Taylor Swift dropped a previously unreleased track yesterday called "Mr. Perfectly Fine".  It's from 2008, when she was recording music for her "Fearless" album, and it's TOTALLY about Joe Jonas.
Here's a sample lyric:
"Hello, Mr. Perfectly Fine, how's your heart after breaking mine?
"Mr. always at the right place at the right time, baby.
"Hello, Mr. Casually Cruel, Mr. everything revolves around you
"I've been Miss Misery since your goodbye, and you're Mr. Perfectly Fine."
Back in '08, Taylor went on "Ellen" and accused Joe of breaking up with her over the phone in "25 seconds."  But they've made up since then.
So, how did Joe's wife Sophie Turner react to Taylor reopening this old wound?  She took TAYLOR'S SIDE.  (!!!)  She posted the song on her Instagram Story and said, "It's not NOT a bop."
And Taylor returned the love, saying, "forever bending the knee for the Queen of the North, which is a nod to Sophie's "Game of Thrones" character.
One person on Twitter summed up the exchange perfectly, "Sophie Turner is a Swiftie first and Joe Jonas' wife second."
(People)