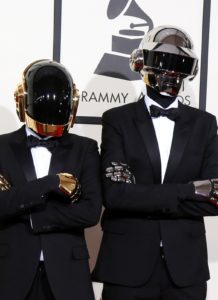 Daft Punk has called it quits after 28 years.  They made the announcement in an eight-minute video, where one of the guys literally blew up the other one.  The other guy then walks off into the sunset.
It would've been weird coming from anyone else, but for them it was on-brand.  The group hasn't commented beyond that.  Their publicist confirmed the news, but didn't give a reason for the breakup.
The guys behind the suits, Thomas Bangalter and Guy-Manuel de Homem-Christo formed Daft Punk in Paris in 1993.  Their debut album featured the singles "Around the World" and "Da Funk".
They released four studio albums, plus the soundtrack to "Tron: Legacy".  Their most recent one, "Random Access Memories", came out in 2013, and it won the Grammy for Album of the Year.  That's the album with "Get Lucky".
Overall, they got 12 Grammy nominations, and won six of them.
"Billboard" pointed out that Daft Punk isn't the first band whose final album won Album of the Year.
For example, Simon & Garfunkel never released a follow-up to "Bridge Over Troubled Water", which swept the 1970 awards.  Ray Charles died just before the release of "Genius Loves Company".  John Lennon was killed three weeks before the release of "Double Fantasy", and Lauryn Hill has yet to release a follow-up to her solo debut, "The Miseducation of Lauryn Hill", which took the 1998 award for Album of the Year.