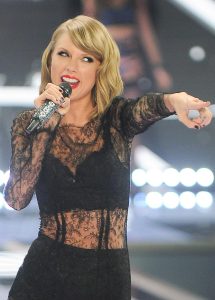 A Taylor Swift "super-fan" went viral, because she was off-the-grid at camp for the past two weeks, and missed the "Folklore" surprise.
Her handle is @SeeItInMyMind, and two weeks ago, she Tweeted, "I'll be without my phone or any wi-fi the next two weeks.  If Taylor decides to do something big, don't unfollow me for inactivity."  That was dated July 17th.
Of course, last Thursday, the 23rd, Taylor gave less than 24-hour notice that "Folklore" would be out the next day.  And not long after, people started passing around this poor girl's Tweet about being away at camp.
Yesterday, she returned from camp, picked up her phone, and FREAKED.
She admitted she DID get tipped off, because her parents "sent her a letter."  But she didn't know she went viral, and she was just now listening to the album for the first time.  And she loved it.
She got another surprise when Taylor Tweeted to her, saying, "Welcome back from your trip!  We are all somber woodland fairies now.  Feel free to grab a wicker basket and join us!"  The girl replied, "I'm literally shaking!"
Welcome back from your trip! We are all somber woodland fairies now. Feel free to grab a wicker basket and join us! 🧚‍♀️ 🧚‍♂️😄

— Taylor Swift (@taylorswift13) July 30, 2020