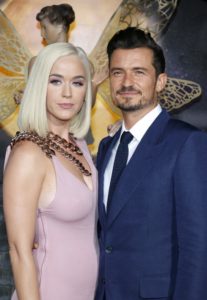 Katy Perry was NOT in a good place after she split from Orlando Bloom back in March of 2017, after a little over a year of dating.  She says that at that point, for the first time, she sensed both her life and career falling off course.
She said, "I lost my smile.  I don't know if my smile was ever fully, like, authentically mine, but I was riding on the high of a smile for a long time.  Which was the validation, love, and admiration from the outside world, and then that shifted."
She says it was a "seismic" shift for her, and that it had broken her in half.  The validation from her music wasn't giving her a high anymore, and she just crashed.  But it was a "necessary brokenness."
Katy credits one thing with bringing her back, "Gratitude is probably the thing that saved my life, because if I did not find that, I'd have wallowed in my own sadness and probably just jumped.  But I found the ways to be grateful."
Of course, she and Orlando have since reconciled, and are now expecting a baby.
(The interview was on a Canadian radio show.  There's video, here.  Skip to the 7:40 mark.  The gratitude part is at 11:52.)