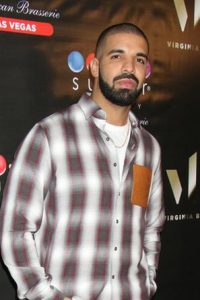 Last year, when Millie Bobby Brown was 14, she revealed that she and Drake spent a lot of time texting each other.  Drake was 31 at the time.
She said, "He's honestly so fantastic.  A great friend and a great role model.  We just texted each other the other day, and he was like, 'I miss you so much,' and I was like, 'I miss you more.'"  She also said he gives her DATING advice.
Well, people got weirded out by that, but Millie defended their relationship as completely innocent.
Skip ahead to the present, where Drake's new texting buddy is 17-year-old Billie Eilish.
In a new interview with "Vanity Fair", she said, "Drake is like the nicest dude I've ever spoken to.  I mean, I've only like texted him, but he's so nice.  Like, he does not need to be nice, you know what I mean?  He's at a level in his life where he doesn't need to be nice, but he is, you know?"
And once again, it's making people uncomfortable.
(WARNING:  You can listen to the interview here, but it's LOADED with profanity.)