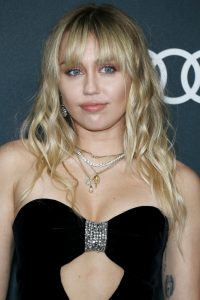 Last week Miley Cyrus dropped the video for her latest single "Mother's Daughter." Featuring a diverse cast, including Dazed Beauty Community member Aaron Philip, the video was a celebration of beauty in all its forms.
However, not everyone agreed with the message Cyrus was promoting. In a now-viral Tweet, user Pamela Umeh voiced her criticism of plus-size model Angelina Duplisea who appears in the video, reclining on a chaise lounge, nude and fanning herself.
"Don't care how I'm viewed but someone has to say it," Umeh wrote. "This is not healthy, this is obesity that leads to health problems and shouldn't be praised or accepted because society has become so sensitive to everything."
The tweet has divided opinion, with people coming out both in support and opposition. While over 150k users liked the tweet, many called out Umeh for promoting fatphobia and shaming Duplisea.
"I hope you're at least a doctor or nutritionist and not just spewing fatphobia lol" wrote @saiiimua, while @JusticeTierney commented, "*sigh* here we go again. showing fat bodies is not praise of obesity & related health problems. it's inclusivity. its representation. it's helping other people who look like her love themselves as they are and not be pressured into skinniness. fat people shouldn't be excluded +"
"And while she deals with obesity, should we throw them out of the society? Or did you filter your brain so much that you can't understand the LOVE is needed in this world where cruelty is ruining humanity?" wrote @gbangucci.
This is not the first time this topic has been fought out on social media. Last month, Nike sparked debate when it unveiled plus-size mannequins in their London store. While critics called out the brand for promoting obesity, many pointed out that health and fitness cannot be judged by size. In 2016, a study conducted by the University of California-Los Angeles and published in the  International Journal of Obesity found that body mass index (BMI) is not a reliable way to measure someone's health. The study reports that almost half of Americans (34.4 million) who are considered overweight by their BMI number are healthy, as are 19.8 million who are considered obese.
With this in mind, it's impossible for us to judge a person's health by looking at them.