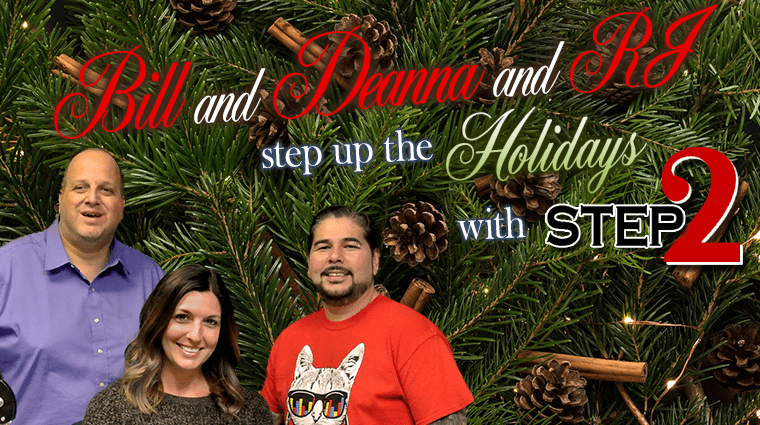 Alice 96.5's Bill, Deanna, and RJ are getting ready to help step up the holidays for Step 2, a non-profit organization helping women and their families break the cycle of addiction!  

Again this year they will be hitting the road collecting your gently used household donations, warm winter coats, small kitchen appliances, baby items including cribs, changing tables, and more.  Here is where they will be…  
Here is where they will be…
| | | |
| --- | --- | --- |
| | Monday 11/19 | |
| 6am-10am | Qdoba – 6135 South Virginia in Reno | |
| 11am 2pm | Les Schwab – 1900 Silverada in Sparks (corner of Oddie) | |
| 3pm-6pm | Tamarack Junction – 13101 South Virginia/Reno | |
| | Tuesday 11/20 | |
| 6am-10am | Scheels at the Outlets in Sparks | |
| 11am-2pm | Dollar Loan Center – 595 Keystone Ave in Reno | |
| 3pm-6pm | Hobey's Casino – 5195 Sun Valley Blvd/Sun Valley | |
Help us, help the women and families of Step 2 this holiday season with Alice 96.5 New Music First!
Learn more about Step 2 here.
People ask us all the time 'is it OK to give cash'?  We are always happy to tell them that cash is wonderful.  STEP2 recognizes these gracious cash donation as unrestricted funds.  This funding helps the women of our program in emergency situations to get what they need, when they need it, and in the way that's most useful for them.  Often time it comes in the form of a bus pass, help with emergency food and baby formula, or a trip to the hospital.  It can have many wonderful applications for our families.  We are proud to say that 100% of these donations go directly to the women and children engaged in services at STEP2.
Help Step 2 now with a monetary donation…
To donate, either: Text STEP2 to 443-21  or go to www.Step2reno.org/support