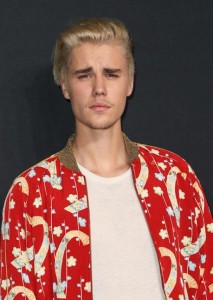 Justin Bieber hasn't done any acting, outside of a guest appearance on "CSI" seven years ago, and a couple of other cameos where he played himself.  But apparently, that's about to change.  "Us" magazine says Justin is seeking out advice from some big-time Hollywood types, and no, we're not talking about Christian Bale, Leonardo DiCaprio, or Daniel Day-Lewis.
A "source" says,  "Justin asked Adam Sandler and David Spade out to dinner to pick their brains about breaking into the film industry.  They had a great time.  Justin had a lot of questions for them about the movie world . . .
"He's trying to educate himself about the industry and learn more about it."
I guess that's cool if he's going for the silly '90s comedy vibe, but still, it's like getting music industry advice from the Crash Test Dummies.
For anyone in their 30s, Sandler and Spade were the GOLD STANDARD of their youth, but Justin was born in 1994, meaning that by the time he was old enough to watch their movies, they were already well past their prime.